The top navigation bar is always present while in the forum. It is your gateway to all the essential functions.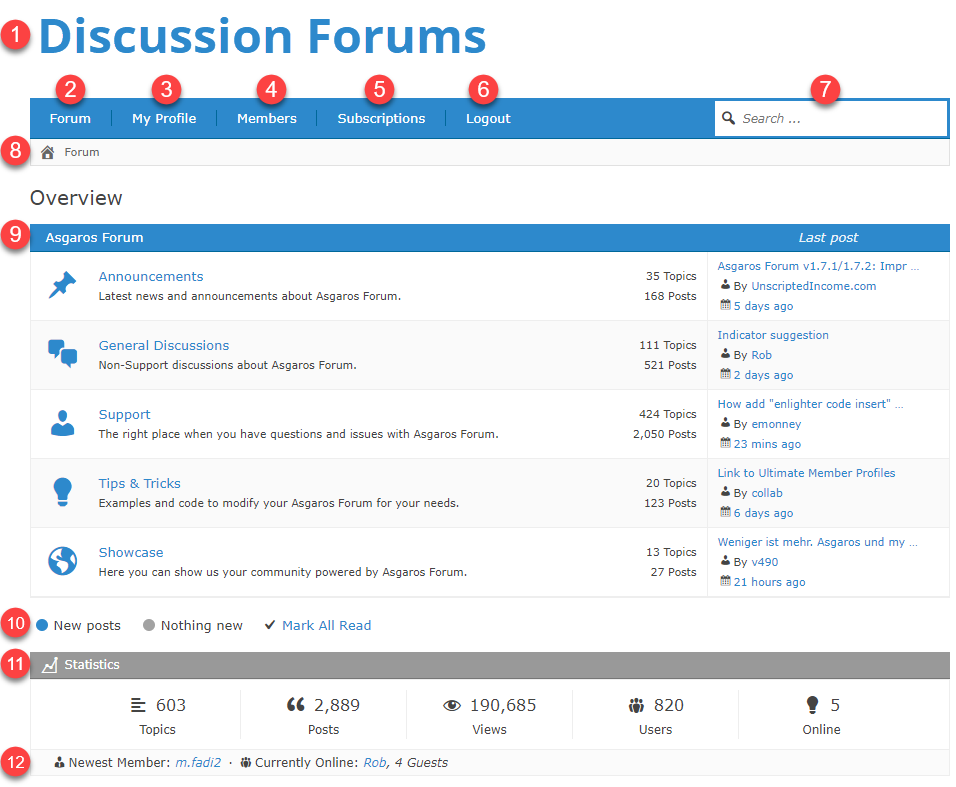 Forum Name. This is the name of the overall forum. Here it is called Discussion Forums.
Forum. Clicking this will return you to the Overview which is considered the forums "home".
My Profile. Clicking this will show you information about yourself and the totals of your activity in the forum.
Members. Clicking this will show you a list of all members.
Subscriptions.  Clicking this mail icon will show you the topics and forums that you are subscribed to get email notifications about activity.
Logout -or- Login & Register. If your forum is not managing logins, you will not see anything here.
If your forum is managing logins you will see these links depending on whether your are logged in or not:

If you are logged in, clicking Logout will log you out.
If you are not logged in, clicking Login will let you log in. If you are not a member, clicking Register will allow you to register yourself to become a member:


Search Box.  Entering text and pressing the Return or Enter Key will do a search in the entire forum for the text entered in topics and titles of topics.
Breadcrumb.  This line below the links is known as a "breadcrumb". It serves 2 purposes:

It informs you where you are in the forum.
You can click any of the labels to go to that part of the forum.

Available forums. All available forums will be shown in this area. If you are a member of a private forum, you will also see these.
Posts Indicators. These colored circles indicate the color of the forum icon in available forums as follows:

When there is a New posts (topic or comment), the icon for that forum will be the primary color of theme (in this example it is blue, which is also the default) to indicate there is a new topic or comment. In this example, there is something new in all forums. When you read the topics/comments in that specific forum and then return to the forum home, the icon will turn gray to indicate it has been read.
When there is Nothing new in a forum, the icon for that forum will be gray (none in this example).
Also included on this line is your ability to mark all forums as having been read. Simply click Mark As Read and everything (all unread topics and comments) will be considered read and the page will be refreshed to show you that happened.

Statistics. On this line, you can see the total of all Topics, Posts, Views, Users and number of Online users.
Members Indicators. On this line, you can see the Newest Member, the members Currently Online and the number of Guests (viewers who are not registered).